Thank You from San Diego Children's Discovery Museum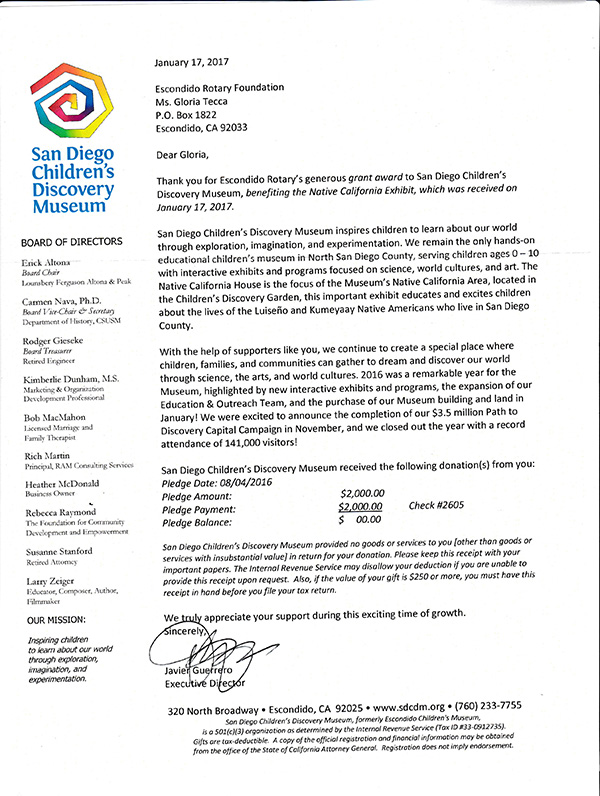 "Dear Gloria,
Thank you for Escondido Rotary's generous grant award to San Diego Children's Discovery Museum, benefiting the Native California Exhibit, which was received on Janyary 17, 2017.
San Diego Children's Discovery Museum inspires children to learn about our world through exploration, imagination, and experimentation. We remain the only hands-on educational children's museum in North San Diego County, serving children ages 0 - 10 with interactive exhibits and programs focused on science, world cultures, and art. The Native California House is the focus of the Museum's Native California Area, located in the Children's Discovery Garden, this important exhibit educaes and excites children about the lives of the Luiseño and Kumeyaay Native Americans who live in San Diego County.
With the help of supporters like you, we continue to create a special place where children, families, and communities can gather to dream and discover our world through science, the arts, and world cultures. 2016 was a remarkable year for the Museum, highlighted by new interactive exhibits and programs, the expansion of our Education & Outreach Team, and the purchase of our Museum building and land in January! We were excited to announce the completion of our $3.5 million Path to Discovery Capital Campaign in November, and we closed out the year with a record attendance of 141,000 visitors!
We truly appreciate your support during this exciting time of growth.
Sincerely, Javier Guerrero, Executive Director"