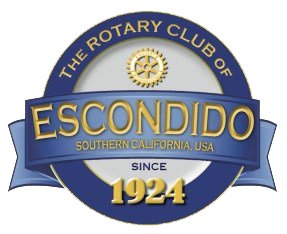 Rotating Meeting September 19th
We have an outstanding list of venues for our Rotating Meeting coming up on September 19th. There is something for everyone who wishes to learn about a member's business or work place. There is a lot of expertise and variety as you look at the list. So, please save the date and register for a location to enjoy Rotary on September 19th. Our goal is to set a record for rotating meeting attendance. Many thanks to our members who are serving as hosts.
EmbroidMe Embroidery Services, Joe Ocampo (Limit 10). Find out how our Rotary shirts are made and more.
Estate Law, Jackie Skay (Limit 8). Plan for the future.
Personal Injury Law, Richard Marino (Limit 12). A most interesting field for the law profession.
Lunch with the Mayor, Sam Abed, City Hall (Limit 15).
John Paul the Great Catholic University, Kevin Culbertson (Limit 15). Learn about our downtown university.
Del Lago Academy - Campus of Applied Science, Steve Boyle, EUHSD (Limit 18). You get to interact with students.
Children's Discovery Museum, Javier Guerrero (Limit 20). Note: children welcome to attend.
LPL Financial, Sima Alefi, Financial Advisor (Limit 15). Sima will discuss how to reduce taxes and increase income in your investment portfolio.
Capital Financial, Mark Umek, Investment Broker (Limit 8). Investment and savings strategies.