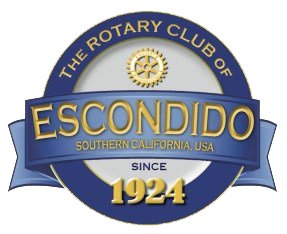 We Made A Difference - 2017 In Review
You, the members of The Rotary Club of Escondido, truly embodied the 2016-2017 theme of Rotary Serving Humanity. You should be proud of all you accomplished this year! The Club was charted on October 20th, 1924 and has thrived ever since. We have given birth to several other clubs, have provided District 5340 with several District Governors, including the first female DG, Sandy Rimer, and one current ADG, Keith Richenbacher. Our annual fund raiser, Coeur de Cuisine, has earned over $1.2 million over the last 14 years, which has been injected back into the local community in support of various non-profits and community service organizations. For the last three years, the Club has earned Presidential Citation recognition at the year end District Governor Banquet.
Our Local Service This Year:
Schools painted 42 downtown Escondido store-front windows. Winners received cash prizes totaling $1,200.
Conducted First Annual High School Music Contest. Escondido High tuba player Tiani Hernandez went on to compete in District regionals.
Conducted 4 Way Test Speech Contest
Helped select and sent 15 outstanding local middle school students to LEAD Leadership Camp.
Sponsored 16 highly qualified high school students to RYLA.
Awarded 45 scholarships totaling $30,000 to local and very deserving high school seniors to assist in meeting their college expenses.
Supported Cub and Boy Scout groups with a $3,000 donation.
Worked to certify more members as Rotary Youth Certified.
"Vocational" Awards. Presented 60 Outstanding Scholar and Service Above Self Awards to top elementary, middle, and high school students.
International Service Projects:
Polio Plus support, $2,840 to TRF. Sold "Thanks Rotary" polio bumper stickers on World Polio Day Oct. 24.
In October we supported three International Annual Program Fund goals with PP Mary Geerdes and PDG Christine Montan to donate $26.50 for each ERC member, RIF donation of $4,250 for the Baker, Louisiana Rotary District flood victim fund relief, and the Polio Plus donation greater than $2,650 in honor of our centennial.
Supported the Rotary Thousand Smiles clinics with attendance by ERC members at the Aug, Nov, and May clinics. We donated $2,000 to the Thousand Smiles Foundation for purchase of dental equipment for the new surgical suites. Also paid for lunch for medical volunteers at the hospital on Saturday at the Nov and May clinic dates.
Hosted six DG's and spouses from the RI DG Training Conference in January to our progressive dinner in Escondido. They enjoyed fellowship with an equal number of ERC members and spouses.
Attended the District Training Assembly, Mar. 18 along with several Red Badgers.
Attended the Mobilizing Rotary for Microcredit committee meetings each month at Dist. 5340 HQ in Old Town, San Diego. Johnny Watson is treasurer for the committee to interact with The San Diego Foundation for international microcredit grants.
Partnered with Rotary Club of Del Mar-Solana Beach and District Grants for a $12,000 project for school supplies at a new school in Monrovia Liberia, in West Africa.